Obituary of Prof. Friedrich Frank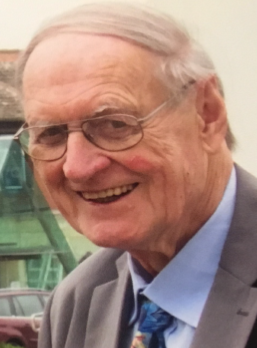 Univ.Prof. Dr. Friedrich Frank passed away on Friday, July 28, 2023, in the 94th year of life.
Prof. Frank studied medicine and voice. In 1974 he was habilitated for the subject ENT / Phoniatrics, and in 1980 he was appointed tit.Ao.Professor.
Prof. Frank became Extraordinarius for Phoniatrics and Speech Therapy in 1993 and headed the Division of Phoniatrics and Speech Language Therapy of the Vienna University Hospital from 1993 until his retirement in 1995.
Prof. Frank rendered extraordinary services to phoniatrics and pedaudiology, also from a professional-political point of view. Under his leadership, the "Arbeitsgemeinschaft deutschsprachiger Phoniater" was founded in Salzburg in 1966.
Prof. Frank was scientifically particularly concerned with the singing voice and wrote publications and textbooks on this subject.
In 1972, the school for the logopedic-phoniatric-audiological service was founded at the Vienna General Hospital, of which he was the medical-scientific director - together with the audiologist Prof. Schwetz - until 1993. In addition, Prof. Frank held a teaching position at the Vienna University of Music and Performing Arts. He was president of the Austrian Society of Speech Therapy, Phoniatrics and Pediatric Audiology (ÖGLPP) from 1971-1995, honorary member of the Austrian Society of Otorhinolaryngology, Head and Neck Surgery, the DGPP (German Society of Phoniatrics and Pediatric Audiology), the UEP (Union of European Phoniatricians) and the IALP (International Association of Logopedics and Phoniatrics), bearer of the Decoration of Honor for Services to the Republic of Austria and honorary recipient of the Medical Faculty of Vienna and other awards.